In October 2023, I had the pleasure of staying with Sira for a one-week homestay. I was apprehensive at the prospect of my first solo trip and the idea of staying with a complete stranger but, from the moment she met me at the railway station she made me feel welcome and, by the end of my first day, I felt like I was staying with a friend. The accommodation that Sira offers is wonderful, a private bedroom and bathroom, very cozy and comfortable. The medieval town of Sarzana is beautiful and within easy reach of Pisa airport by direct train.
I had previously had some 1:1 lessons with Sira back in 2021, but also had an assessment prior to my stay to enable Sira to know my current level of Italian. The course was then tailored to my specific needs and interests. Even though the weather was truly awful while I was there, Sira made sure that we were able to do all of the things that we had planned, including a visit to the marble quarries in Carrara, visits to San Terenzo, Lerici and Tellaro as well as going up into the hills to visit the medieval village of Montemarcello. On the day that rain really did stop play, we went to the market for ingredients to cook traditional dishes of Torta d'erbe and Tiramisu, which we then ate while entertaining one of Sira's friends.
Sira was very intuitive and knew what I needed for me to move forward in my Italian learning journey before I did. She quickly realised my struggle to keep up and understand, when listening to spoken Italian, and that it affected my confidence. She immediately suggested a way for me let her know that I needed her to stop, to enable me to process what was being said, before we continued with the conversation. Something which helped me immensely. "Cosa stai dicendo", Sira!!
Each day began with a more formal lesson based on what we had done the previous day, this may have been at the kitchen table or on occasion when we went to 'il bar' for caffè and croissant. It wasn't just during the lessons that I was learning, it was continuous. During conversations at breakfast, lunch and our evening meal, while in the car or on the occasions when I met Sira's friends. Being constantly immersed in the sounds of the Italian language was a great way to learn.
I have visited the Liguria region many times before, but to experience the area with someone who was able to tell me about the history of the villages, the Italian culture and way of life was amazing.
If you are looking for a total immersion into Italian life, with someone that is truly dedicated to teaching, VERY patient and a lot of fun, then an Italian Homestay with Sira Gheller is definitely for you.
Grazie Mille Sira, Mucca and Briciola for a wonderful week that I will never forget. You are a truly lovely person and I was genuinely sad to leave. You quickly became a special friend and I hope I will be able to visit again in the not-too-distant future.
If you're debating whether this week of language immersion will spur your Italian on, then I can assure you it did it for me. Sira is vivacious and engaging and a born teacher. She has the experience to spot gaps in my vocabulary, sentence structure etc and by the next morning she had created some relevant input which was just right. This happened every day so I can honestly say that I had improved by the end of the week. Also Sira was able to adapt the trips and excursions to suit which I really appreciated. Plus it was fun meeting some of her friends and chatting with them and Sarzana is an interesting place with a long history. So glad I made this trip.
Sira is very warm and welcoming and made my sister and I feel at ease from the start. She's a wonderful teacher who quickly tunes into your interests and language needs and designs her teaching and materials to suit each student. We enjoyed a mix of learning by doing as we walked round Sarzana, we had outings by car to the Golfo dei Poeti, for example, we had dinner together and sometimes with Sira's friends, which was delightful. In a week I felt much more confident in speaking Italian and using everyday language. Thank you Sira, for a wonderful week!
I recently had an incredible week in September 2023, immersing myself in Italian with Sira.
I didn't quite know what to expect, and I was a tad nervous about conversing in Italian consistently with my beginner-level skills. Sure, I had previously taken a group class for two weeks in Puglia, but that felt easier because we mostly spoke English outside of the class.
When I arrived, after a slightly delayed flight, Sira whisked me away to a community Polenta Festival with her friends. They were warm and welcoming and did not pressure me to engage in endless conversation. The festival itself was delightful! And that's what sets this course apart; it's all about living everyday Italian life and participating in local activities. It's like dropping into the life of a good friend and spending a week doing what they do.
Our typical day would start with breakfast at home, at a local patisserie, or sometimes both, depending on our morning plans. Sira would gently assist me in ordering coffee and pastries, allowing me to practice my rudimentary Italian with the locals. I was interested in Medieval history, and Sira has an excellent knowledge of it. So, in the mornings or late afternoons, we'd explore ancient villages while conversing in Italian. Afterwards, we'd head back for a late lunch and a much-needed "pisolino" (nap) and then venture out again in the cooler late afternoon to explore some more. In the evenings, Sira would whip up a delicious local Italian dish, and we'd savour it on the balcony as the sun set, often in the company of her friends, who'd share their stories and news.
A few things made this course stand out compared to my previous language school experience. Sira didn't insist on bombarding me with endless grammar rules that I might or might not use. Instead, each morning, she tailored the lessons specifically to my needs, focusing on areas where I could improve or helping me practice what I struggled with the day before. It was all about relevance and making it easy to remember. Relevance, I think, is the difference between an experienced Italian teacher and a tutor who follows a rigid formula. Sira never overwhelmed me; she kept everything at my pace. She pointed out that I knew quite a few Italian words but lacked the confidence to speak everyday Italian. Within just two days, I shed my hesitancy and managed to converse in relaxed, albeit imperfect, Italian.
Sarzana boasts a stunning and historically rich Medieval centre, but beyond that, it's a typical bustling small city with its fair share of noise and traffic. However, its prime advantage is its central location and many trains connecting it to Cinque Terre, Pisa, and Florence. Coming from Australia, I yearned for some green space, and Sira introduced me to a hidden morning walk, part of the Camino from France to Rome. This course represents excellent value, including full board and tuition, with minimal additional expenses. But the true gem is Sira herself, seamlessly immersing you in her and her friends' everyday lives. Such an intimate and authentic experience is rare.
I was very nervous leading up to my week with Sira but from the moment we met, she put me at ease.
Sira was so encouraging but gentle with her conversation and helped build my confidence from day one.
I undertook the Learning By Doing program for a week, living in Sira's apartment. It was so comfortable and she and her 2 beautiful cats made me feel right at home.
After breakfast on the terrace, we started the day with some lessons, going over mistakes I had made the previous day and watching the news headlines in Italian to promote listening skills, comprehension and discussion.
Sira is a highly experienced language teacher which meant those lessons were not only instructive and relevant but entertaining, optimising the learning experience.
After the morning classes, Sira and I would head out for an afternoon activity. We visited beautiful towns, including Sarzana and its weekly market, the Carrara Marble quarry (so interesting) and some museums. We wandered along the via Francigena and enjoyed lunches and dinners on the terrace with her friends. We discussed in Italian (at a comfortable pace) life, parenting, politics, hopes and dreams. Sira shared her Italian culture with me and I was able to share my experience of life in Australia with her.
Each day there was some free time to rest my mind and body and ample time to catch up on emails and books etc. On my free day I visited the Cinque Terre by bus and then boat, where I had a chance to try out my new language confidence in the world!
My week with Sira exceeded my expectations. I feel that improved my language skills so much during the week and the grammar came alive in my conversation. I learned about Italy at a deeper level and feel that I have made a lifelong friend in the process.
I awoke each morning to the faint sound of the computer printer, and I knew that Sira was preparing my custom lesson, incorporating our activities and my language experiences from the day before. She understood what I needed to become more confident about speaking and even thinking in Italian What had been a struggle to overcome problems turned into a journey of discovery. Since I had already visited the famous and spectacular areas of Cinque Terre and the Bay of Poets, Sira chose a castle with pre-Christian, little-known statues, a working marble mine in a cave, a beach and a canal, places that define the character of Lunigiana, the ancient civilization at the border of Liguria and Tuscany. I learned how events in Europe, pilgrimages and politics, have shaped the region. I shared the rhythm of Sira's daily life, laughing with her friends, loving her cats, shopping in the charming pedonale of Sarzana, and absorbing the spectacular view of the mountains from her terrace. Finally, there is the wisdom of Sira as a teacher. She knew when to revert to English, when to explain grammar, when to ignore mistakes, and when to pause for an in depth explanation of a nuance. I left with resources like a slow talking Italian news channel and a long term assignment: to learn to sing an old Italian popular tune that would clear my head of rules and anxieties and free up my inner Italian self. I have visited Italy as a tourist many times, but my week with Sira was the first time I understood where I was. Truly a magical experience!
Thank you very much for y wonderful week with you (and the cats). You are a great teacher and I learnt a lot.
Realizing I needed a one-on-one 'kick start' I found HMST Italia on line; Sira answered my queries quickly and thoroughly – having filled in a short questionnaire in order for Sira to assess my level I set off for Sarzanna really not knowing what to expect but hoping to come away with some basic conversation.
My welcome by Sira was warm and the apartment cosy and comfortable and I found myself being tutored immediately in the basic greetings.
As promised Sira had compiled a schedule of both lessons and leisure activities based on the information I had given her about my interests.
In the first hours Sira ascertained what I actually wanted to achieve and why and set out a way to accomplish this.
I found her teaching thorough, informative and sensitive, giving me not just the framework to learn but also, from the very beginning, the confidence and assurance to speak in Italian.
Sarzana is a beautiful medieval town in one of the most naturally beautiful and historic areas of Italy and through Sira's guidance I came away with not just far more Italian than I thought I could possibly learn in such a short time, but an experience of the culture of the area. I couldn't have asked for more.
I spent a week with Sira in Sarzana in May 2022. A visit that had, sadly, been delayed by two years because of Covid. After trying to learn Italian for several years, I had got stuck in a rut and was making no progress…. The week with Sira was a fantastic experience and really, really good for my Italian. She is a truly excellent teacher, a wonderful host and enthusiastic tour guide for this very special part of Italy called Lunigiana. We some formal lessons, but most of the time we spoke Italian. Not a word of any another language was spoken, which for me was what was needed. Sira is very knowledgeable, passionate and interested in a wide range of things so we had no shortage of topics for discussion, debate and sharing. The weather was really nice and I like the outdoors, so we spent a lot of time walking in the lovely countryside around Sarzana up into the Apuan Alps and by the dramatic coast (Golfo della Spezia). The footprints of past writers and poets were all around from Shelley and Byron to DH Lawrence. As it happened, the Giro D'Italia (a famous cycle race) was passing by during my stay. Sira gladly humoured me, so we spent a day out driving through the gorgeous Appennine mountains to see the Giro go over a mountain pass. Together we were real cycle fans ("tifosi di bici") for the day. An added bonus was meeting several of Sira's friends who came round for dinner. I was a bit nervous at the prospect of trying out my Italian on other people. However, they were all extremely friendly and it was interesting to get (and share) a wide range of views and perspectives on life, wine and Italy and other important things. By the end of the week I was really sad to say goodbye to Sira as she had become a good friend as well as my teacher ("Profe"). I will always remember with fond memories my week in Sarzana.
Ciao Sira and Ciao Sarzana
I was looking for somewhere to go that would make me speak and learn Italian. Many courses I looked at were 'college' based, which meant after the lessons it would be so easy to slip into speaking English even with foreign students. Sira's course was exactly what I was looking for. One to one tuition and immersion in Italian life. The course structure is excellent.. a great mix of lessons, practice, and day to day speaking and visits to some beautiful places ( all part of the learning process even admiring amazing scenery out would come a quick lesson ! But what better way to learn)
Sira is a superb teacher, with a well planned itinerary to suit individuals interests and abilities. She is great fun and a very easy person to spend time with.
I was fortunate to be asked to be her guinea pig for a new course, she is planning to do with her friend who is a chef. Learn Italian and experience Italian cooking. We had a hilarious afternoon making tagliatelle and sauce. Just what you need to lose any inhibitions.
Location … great . Direct train from Pisa to Sarzana and a great hotel Bologna within easy walking distance to the train station if you have to overnight or like me you want to extend your stay and see Pisa and put into practice your Italian.
I would recommend Sira's courses to anyone who wants to have that one to one experience of learning/improving your Italian. Thanks Sira for a fantastic week.
If your goal is to improve your Italian, whatever your grade: beginner, intermediate or advanced, a homestay course with Sira Gheller will definitely move you to the next level Living with your teacher is to fully immerse yourself in the language; it's wasn't just the 20 hours of formal lessons per week that I undertook, but the fact that even when not in the 'classroom' I was still learning – over breakfast, over dinner or when we were travelling to a destination, as Sira continued to actively engage me in conversation – all in Italian, of course! Sira offers a learning by doing method of learning Italian – I was not only introduced to all her friends, but we spent time together over lunch or over dinner, thus exposing me to native Italian speakers who may not be quite so clear in their pronunciation! We went for coffee and read the papers together, went to local markets and went hiking in a group, as well going on excursions to places such as the marble quarries of Carrara and to some of the mediaeval hilltop hamlets in the area. Time off was arranged during the week so that you could visit local towns and other places of interest (there is a very good train service along the coast) or so that you could spend time consolidating your learnings.
Sira is an excellent teacher – very patient (despite repeatedly making the same mistake she corrected me gently until I started to self-correct and finally got it right!) and very good at explaining grammatical points as well as words that I didn't already know the meaning of. By the end of a fortnight, we were watching the telegiornale (TV news) together with Sira asking me questions about what was going on in the world and me summarising events in Italian!
Be aware that Sira is an early riser, and therefore goes to bed early, so don't expect any evening entertainment; there is no television in her apartment, but the wifi is excellent so you can watch programmes on your iPad or laptop, if you take one. I took advantage of being here to catch up on some much needed sleep!
Thank you for a wonderful, memorable two weeks. Your beautiful way of teaching, you have painted for me a fascinating and memorable picture of a beautiful culture, its land and its people. I will never forget you.
Two weeks with Sira did wonders for my Italian — and my pleasure in speaking it! Sira understood exactly what I needed at every step, and she made the process so much fun that our time flew by. When I started, my conversational Italian was painfully slow and self-conscious. Sira promised to "unblock" my ability to speak and she did exactly that. Intuitively, she knew when my brain was ready to be challenged and when it needed rest. I always felt stimulated but never overloaded. Our conversations were so engaging that I almost forgot I was "studying." Instead, I felt I was spending time with a wonderful friend. I can't wait to go back!
It was a lovely week at Sira's, and Sarzana is a cozy town which is lovely to walk around. Sira always managed to adapt the teaching to me and what I needed to learn. She made me understand new aspects of learning a language, how important pronunciation and the melody of the language are. And then it's great that the lessons can also take place on the beach, in the supermarket, in a cafe and for wine tasting. I am definitely considering coming back.
With Sira as your guide, you will genuinely learn by doing and have lots of fun in the process! Her warm personality made me feel right at home, and her knowledge and enthusiasm for the area allowed me to experience Sarzana like a local. I will never forget the charming city, beautiful panorama, or the variety of daily adventures with Sira and her friends From castles to card games, Sira thoughtfully considered my interests and went above and beyond to create the perfect week-long itinerary. As for my Italian, Sira naturally met me where I was and appropriately challenged me with engaging lessons in a variety of skills, topics, and settings. I never thought I'd have an Italian lesson on a mountaintop or an historic pilgrim trail! She is a truly gifted and intuitive educator, which I can appreciate as a fellow language teacher. I was sad to leave Sira and Sarzana behind, but I left with a greater understanding of the Italian language, culture, and people–and lots of wonderful memories of my new friend in Sarzana!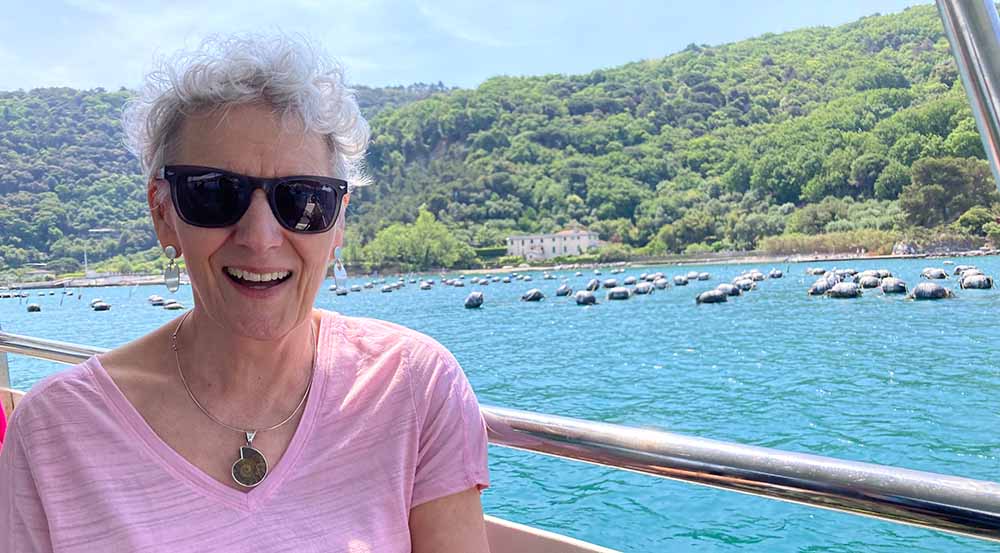 Spending a week with Sira, totally immersed in Italian life, was an amazing experience. Sira is a wonderful teacher and I felt so much more confident speaking Italian by the end of the week. If, like me, your Italian is at beginner level, there is no need to worry. Sira will identify your strengths and weaknesses and focus on them. Her lessons are informal and she will make you feel very relaxed but you will always be learning I booked some 1:1 online lessons before my stay with Sira and this allowed us to get to know each other and for her to get to know my level of Italian. This was good because she knew what areas I needed help with before I arrived. Sarzana is in a lovely area of the country and we visited some beautiful places. We had dinner with some of her friends who were very friendly and welcoming. We cooked pizza, made Tiramisu, walked on the beach, had lessons at a beach bar (il Bagno) and I learned a lot about the history of the local area and Italian culture in general. If you want to live like an Italian and improve your Italian language skills, I would highly recommend a stay with Sira. You will not be disappointed.
I had been thinking about learning Italian and experience a homestay program in Italy for few years and found Sira's website last November. Sira responded quickly and has become my teacher whom I trust because of her professionalism and commitment to teaching. After 4 months of weekly lessons, I finally met Sira in person last May in Sarzana, a beautiful city with full of history. Sira created a lesson program for my level (beginner) based on my interest in history and cooking, took me to beautiful places in the region, and introduced several places to explore on my own as well. She is the most patient and thoughtful teacher who really loves teaching, and treats her student with respect. I truly had the best time of my life in learning Italian and Italian culture with Sira, and now I can call her my lifetime teacher and friend.
My Homestay spent with Sira simply flew past far too quickly……she's a great teacher, considerate, sympathetic, encouraging and very patient. The lessons were interesting, suited to what she felt would be of most help for me The excursions were varied, all most enjoyable enabling me to experience something of everyday Italian life…as was sharing meals with some of her friends and meeting her daughter. Sira made me feel most welcome, her flat was very comfortable so I was sad to leave but feel encouraged and determined to continue her good work to improve my Italian.
I can honestly say that I thoroughly enjoyed every aspect of my homestay with Sira. She is an excellent teacher – well-prepared, attentive and flexible. There was a good mix of more formal "lessons" and local trips out which facilitated more natural conversations based on what we were doing. I also appreciated meetings some of her friends and family.
Meeting and studying with Sira was a truly transformative event in my life. Sira is a uniquely dynamic woman of great warmth, kind patience, and a knowing and fantastic sense of humor. I first studied Italian language thousands of years ago and have been working to regain that foundation over the past few years. Choosing to travel to Sarzana to study with Sira was… a leap outside of my comfort zone even though I'm a fairly adventurous person. Sira understood my interests and created a schedule that was idiosyncratic and dynamic. Our excursions and hikes were perfection. Sira shared her life and her friends and I truly felt — and feel — welcome in Italy and included by Italians. I know that Sira will forever be a friend in addition to a supportive coach of my language abilities.
In January, 2020, I traveled from California to Italy, in hopes of having a positive cultural/ language/immersion experience. Seldom are hopes so completely fulfilled!Grazie mille to Sira, for her hospitality, nourishment in food and spirit, patient and personal language instruction, cultural education, and lasting friendship.
If you want to fine tune your Italian, live like a local and discover things you never knew, look no further. Sira is patient, flexible, well organized, lively and funny. She is passionate about her native language, and also about Italian history and culture. My brief four day stay turned into an immersion course in all aspects of Italian Civilization…An unexpected bonus is the town of Sarzana. Only a stone's throw from the immensely popular Cinque Terre, it has escaped the tourist hordes and maintains its natural charm and beauty.
All in all, a very rewarding experience!
I had an incredible experience of doing Homestay with Sira in Sarzana. I expected to have a good time, learn some Italian (I was not highly optimistic as to how much can one learn in five-six days?!) and, maybe, do some sightseeing.
What has happened, in reality, was full immersion in Italian language, including meeting three of Sira's friends…and her daughter, a new destination to explore every day (I visited Cinque Terre, Pisa, Porto Venere and ended up in Florence, which is only two hours by train away). I was received as a friend and left feeling myself as part of the family. As to speaking Italian, by the end of my Homestay I started thinking in Italian. I am planning to return to Sarzana and do Homestay again. I know there are other places and other good teachers but I think I have found the best teacher for me. Thank you Sira!
I arrived home from Italy 2 days ago after an amazing 5 days in Sarzana doing a Homestay with Sira. I am still talking about the experience to everyone. I was a little nervous before setting off as I didn't really know what to expect other than a few hours of study each day. Within seconds of meeting, it was clear that italian would be the only language spoken… but that my teacher was clear, patient, understanding and a great deal of fun. I felt warmly welcomed and put at ease very quickly. Each day began with a delicious breakfast on the patio with stunning views and in total tranquility so that I could gather my thoughts. What followed was a study programme totally tailored to my specific needs and then a lovely lunch with plenty of relaxing chatter. In the afternoon I was taken to various incredible places – sometimes with friends of Sira and always with plenty of chatting. I met several friends and also her daughter who is a totally fabulous cook. Sira appears to be surrounded by warm, friendly people who are all fun to be with. By the end of my stay I felt much more confident in conversing and now, at home, find that I accidentally slip into italian-speak whilst talking to my family. I even use italian gestures which causes some amusement here. I was genuinely sad to leave and definitely hope to return. Sira is not just a teacher – she is "un'insegnante straordinaria". Grazie mille di tutto
Sira's experience as a language teacher of many years was very evident. She had an expertise in how language works and was able, throughout, to make interesting observations about how Italian operates as a language. I also enjoyed her explanations of aspects of Italian culture / politics. She was very organised and had prepared a varied and interesting selection of things… for me to do, which included some challenging and thoroughly enjoyable work on works by de André, each of them very different types of text, presenting different challenges. This is very much the kind of exercise I enjoy. Also a challenge – but very good for me, given my particular needs (I find it hard to hear what is being said sometimes) – was listening every morning to the news and explaining the different items. Sira is a very special teacher. Sira was incredibly hospitable, encouraging and friendly. She had also organised several experiences (trips out, dinner with friends etc), designed to expose me to other people's spoken Italian. All her friends were lovely too. I had a lovely lunch every day, each thing something typical of the area. All in all, the home stay in Sarzana could not have been a better experience.
This was a very valuable experience for me for a number of reasons. My experience with Sira Gheller was excellent. She is an extremely experienced teacher. She was also very patient and an extremely pleasant person who was very compatible with me. She loves languages and teaching and so was extremely patient with my questions and continual elementary mistakes… We got along very well (she had a 2 bedroom apartment so we were almost always together) and in the afternoon she took me on tours, had a some friends over for dinner and one day had her daughter over for lunch. Her food was simple, local, and tasty. I would highly recommend her for anyone. I really cannot say enough good things about her.
Thanks to Sira, I had a great summer vacation this year. I wish I could have stayed longer there! She is very kind, patient and good at teaching. At her place, I could learn not only Italian language but also Italian culture which is something difficult to know when you study by yourself or are outside Italy. In addition, she kindly gave me many chances…to use Italian with arranging meetups with locals and taking me to a local market. Sarzana is a lovely tranquil town, and a terrace of Sira's house has a beautiful view, and we sometimes enjoyed calm evenings, the rising of the moon or the starry sky together. I'd love to go back there soon or later to study Italian with her again.
Grazie mille!
About me … Sira Gheller
I am a long experienced Italian teacher as a foreign language, specialized in Italian classes for adults.
I love my job, and I take pleasure in sharing my passion for Italian language and culture.
Like a tailor I take care of everything, from global vision to little details; the result is a high focused Italian course for adults based on my student's specific needs.
Last but not least, I also appreciate the cultural exchange of a homestay language experience.